The latest in our series of Kia owner interviews is Gabrielle, who has had his red-painted Rio 5-door hatchback for close to a year and a half.
The reason for purchasing the car in the first place was so that he could have a vehicle that could transport his DJ equipment around without guzzling down a small fortune in gas.
What proved to be a real surprise for Gabrielle, though, was just how powerful the Kia Rio is for a car of its size.
While his initial plan was to simply have some window tinting and a killer sound system in the car, it turns out that "Eggatha," his name for the Kia car, has undergone a lot more modifications than intended.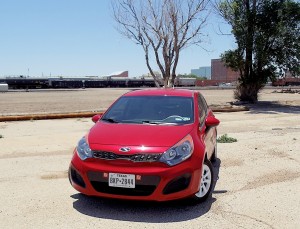 It started with a switch to the "K" badges, which was enough to give his Rio car some admiring glances, but Gabrielle did not stop there.
He has added a number of LED upgrades, as well as white wheel covers, which give the car a really great exterior appeal.
Gabrielle has also installed number of new accessories, such as an Injen cold air intake, LED license plates, upgraded interior lighting, a Kicker L7 10-inch subwoofer, and a host of others.
While many would be more than happy with the changes already in place, Gabrielle is not done, as he has some very definite future plans for the car.
These include a strut brace, trunk brace, a new set of 17-inch wheels, and a few other goodies.
Read on the get a full list of the Kia Rio mods, as well as those still to come.
Kia Rio Specs
Engine: 1.6L Gamma
Exterior color: Signal Red
Trim: LX
Model year: 2012
Tire size: Stock 15″
Average MPG: 28… Due to leadfoot.
Miles driven so far: 21k since I bought the car at 14k.
1.Tell us something about your Kia car ownership experience?
I've loved this car since the day I bought it, it handles really great and has a strong engine for a car of it's size. I plan on keeping this car for a very long time.
2. What do other people say about your Kia Rio?
I've been asked what kind of car it is plenty of times since I've switched to the "K" badges.
I was recently stopped in traffic and complimented on how great it looks. I haven't heard anything bad about the car as long as I've owned it.
3. How long have you owned your ride?
I've owned "Eggatha" for a year and 4 months now, I picked her up with 14,000 miles on the odometer.
4. Honestly, what was your intention when you bought your Rio 5-door hatchback?
My intentions when I bought the car were to have something to carry my DJ equipment around and not waste gas doing it.
I didn't plan on modifying it as much as I have. I mainly wanted a nice sound system and tint as far as upgrades.
5. What do you like the most about your ride?
I really like how sharp it handles and how eager it is when I put my foot in the pedal. It doesn't struggle like other 4 cylinders I've driven. The gas mileage is a plus also.
6. What is it that makes your ride look unique?
What makes my car stand out from the herd would probably be the white wheel covers and the LED upgrades I've done on the exterior.
7. What Kia Rio accessories have you installed so far / do you have any future plans?
Accessories I've installed so far…
Injen Cold Air Intake
Magnaflow Axle Back Exhaust from EVilla Motorsports
6-Point Tie-Bar Brace also from EVilla Motorsports
Alpine iDA-X001 Head Unit
Kicker L7 10″ Subwoofer
1000W DB Drive Amplifier
Upgraded the interior lights from Red to White LEDs
White LED DRLs
White LED Front Turn Signals
LED Reverse lights
LED License Plate lights
exLED Rear Reflector Modules
Autobots Projector Puddle lights
K badges from Karbon Koncepts
4″ Short Antenna
Window Tint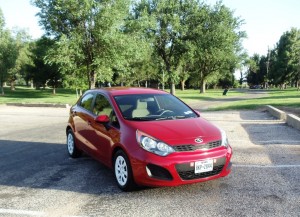 As far as future plans, I would like to upgrade the suspension a little more with a Strut Brace, Trunk Brace, and a Rear Torsion Bar.
Then later on I plan on getting a nice set of lightweight 17″ wheels, SX Foglights and Headlights.
Editor's note: Thanks for sharing your thoughts on your red Kia Rio! Enjoy your ride!