10 must-have Kia Sorento accessories (interior & exterior).
Kia Sorento 7-seater SUV is a great looking vehicle in its own right, but that doesn't mean you can't give it more of a personal touch!
There are all sorts of cool-looking Kia Sorento accessories and body parts that can be added to make it look even better.
For some, it's the interior accessories that will help make the vehicle more of their own, while for others, exterior accessories are preferred, so that their vehicle really stands out in the crowd.
10 Kia Sorento accessories
Let's take a look at some of the OEM accessories available for your Kia Sorento SUV, and all for pretty affordable prices.
#1 Kia Sorento chrome license plate frame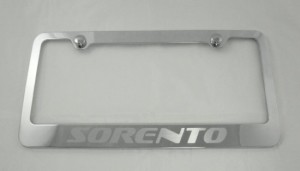 A lot of new vehicles now have their higher trim level models that feature touches of chrome inside and out.
It's certainly a material that adds a touch of class, and now you can get it without having to go to the top of the line.
The benefit of the Kia Sorento chrome license plate is that it will never rust, making it perfect for drivers who live in parts of the country where weather is a factor.
This chrome plate fits in the front and rear, and is US standard size at 6.25 inches by 12.25 inches.
#2 Kia Sorento hood deflector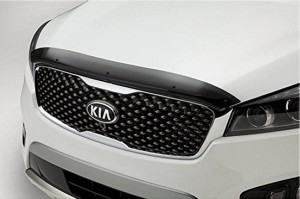 You want to make sure that your vehicle looks its best at all times, which means protecting as much of it as possible.
If you have concerns about rocks or bugs hitting the hood of your new SUV, then the Kia Sorento hood deflector is the way to go.
This deflector is a genuine Kia accessory, and is easy to install.
No drilling is required, which means that someone with little experience with car accessories will be able to install this hood deflector to their ride.
#3 Kia Sorento splash guards kit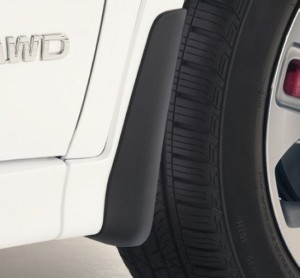 While you can usually pretty easily avoid all the major pot holes on the road, it's often the smaller items that do the majority of the damage.
Debris on the road can wreak havoc with your exterior paint, but you can get an extra level of protection for your Kia SUV with splash guards.
The black-painted Kia Sorento splash guards look great with every exterior color, and their perfect fit ensures that they look like a natural extension of the SUV.
Please note that the splash guards are not compatible with vehicles that have a side step!
#4. K logo for Kia Sorento
If you are looking to give the Sorento a bit of a simple dressing up, this 7-piece Kia Sorento K logo set is certainly a great way to do it.
Finished in a very stylish black and chrome, the badges feature a stylized letter 'K' that adds a little bit of an upscale look to your 7-seater SUV.
#5 Kia Sorento bike hitch mount rack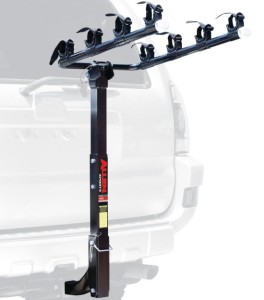 The Sorento crossover vehicle is a great vehicle for those who love to go exploring the great outdoors.
There are some country trails where it won't fit, though, which means having to switch over to two wheels.
The Kia Sorento bike hitch mount rack is perfect for those who love to take their bikes with them on their travels, and these racks can hold up to 4 different bicycles.
#6 Kia Sorento floor mats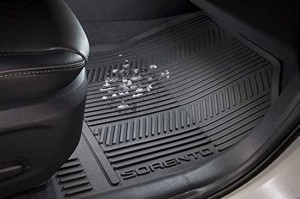 If you live in a part of the country where rain and snow are common occurrences, you can see the flooring in the cabin of your Sorento SUV get messed up pretty quickly.
The 2020 Kia Sorento all-weather floor mats are the answer, and you can get them in sets of 2 or 4, depending on whether you have the 5-seater or 7-seater model of the Sorento.
#7 Kia Sorento cargo tray liner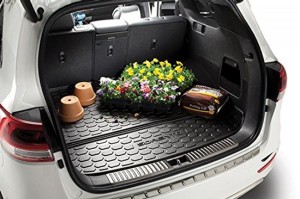 It's not just the seating areas that can be damaged by spills and stains.
There is a lot of space in the cargo area of your Kia Sorento, which means it can handle all manner of items.
Again, if you like to go camping or take part in outdoor adventures, that cargo area can become pretty sloppy.
The OEM Kia Sorento cargo tray liner is a great way to protect the cargo area, and it again comes in two different sizes that are dependent on the seating configuration of your ride.
#8 Kia Sorento cargo net organizer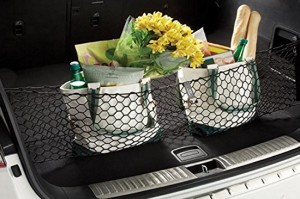 As mentioned already, this popular Kia midsize SUV comes with a ton of cargo space, but there are some cargo items that need to be secured a little better when placed in the back.
This cargo net organizer is one of the "must have" Kia Sorento accessories that not only makes it easier to store trickier items, but also adds a little extra space, which is something that can come in very handy.
The cargo net can be easily added and removed as needed.
#9 Kia Sorento trunk cargo cover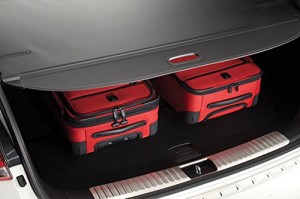 When you have to store items of value in your cargo area, there is always the possibility that thieves might be tempted to try and take what isn't theirs.
This Kia Sorento cargo cover can be used to create a privacy shield of sorts over your valuables.
The cover is UV resistant, as well as being easy to take in and out.
This is a particularly good addition for people who travel regularly and have luggage and other gear in back.
#10 Kia Sorento sunshade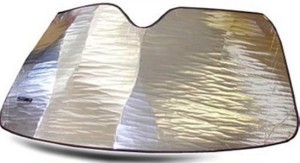 There may be nothing worse than stepping into a vehicle that has been hammered by the sun's rays all day long.
The cabin can feel like a sauna when you first step in, and will stay that way until the AC can do its job.
There is no need for such discomfort when you use the custom fit sunshade for Kia Sorento midsize SUV!
Other accessories for Kia Sorento SUV
We are just scratching the surface of all the great Kia Sorento aftermarket parts and accessories that are now available. We will continue to bring you more as we find them.