The 2016 Kia Sorento will not be fully revealed until late in August when it will get shown off in Korea, followed by an even bigger launch in October at the Paris Motor Show.
Kia is doing a little teasing ahead of those dates, though, by showing off some pictures of the new interior.
What we can clearly see is a wraparound dashboard fascia and a great looking touchscreen media system.
Kia Motors Corp. is also promising high-quality soft touch materials throughout the interior, which they believe will take the 2015 Sorento closer to the luxury end of the segment scale.
Image Renedring of the 2016 Sorento SUV Interior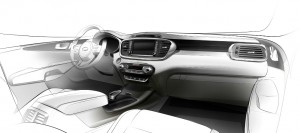 In talking about the interior, Kia have said that much of the inspiration for the European style design came from Swiss watches, which means a lot of contours and stitched leather.
The all-new dashboard features larger air conditioning vents, as well as media system controls that appear to be a good deal simpler than before.
Sitting alongside and slightly behind a pair of covered storage sections is the eye-catching gear shifter.
The center armrest looks as though it may be larger than the one on the outgoing model.
The teaser shots of the interior combined with the teaser sketches of the exterior give us a pretty clear idea of what to expect from the 2016 Kia Sorento SUV.
The roofline will be lower, while the beltline will be raised. The rear of the car will be more rounded, while around front we will see new headlights connected to the grille. The taillights will be trapezoidal in shape and will have a distinctive LED signature.
The new model is also going to be longer than before, as well as having a larger wheelbase. That will create additional legroom in the second and third rows.
The general belief is that the new Sorento will come with a 2.2-liter 4-cylinder diesel and a 3.3-liter V6 petrol engine, the latter of which is also found in the all-new Kia Sedona minivan.
There is also the possibility that a 2.4-liter direct injection engine may be in the mix, with standard 7-speed automatic transmission expected to be mated to all the available engines.
Stay tuned for more information and news on the forthcoming 3rd-generation Kia Sorento SUV!