The highly popular boxy crossover receives a complete makeover.
While Kia delivers a great array of vehicles across numerous vehicle segments, it is arguably the Soul crossover that is their most recognizable model.
Rather than resting on their laurels after two successful generations of the Soul, the Korean automaker decided to up the ante with the 3rd generation, and all while managing to maintain the boxy look that people love.
The 2020 Kia Soul was officially unveiled at the Los Angeles Auto Show and is already proving to once again be a big hit with the driving public.
The exterior design is familiar but has enough changes to set it apart from previous generations.
As far as powertrains options and safety features go, the 2020 Soul model is ahead of the pack. There are more options than ever before with the all-new Kia Soul, all of which should help take the boxy crossover to the top of the heap in the ultra-competitive crossover segment.
What's new for the 2020 model year?
The fully-redesigned 2020 Kia Soul retains the familiar boxy design we have all become used to, but the changes made to the exterior give it a more modern sense of style.
The interior is home to a restyled dashboard that is home to several hi-tech features, including a large 10.25-inch screen and heads-up display.
You will also find more passenger and cargo space in the latest model.
We are now going to take a look at the 2020 Kia Soul changes and improvements across 5 different categories, which are:
New exterior design
Different body styles (GT-Line, X-Line, EV model)
Restyled interior
New platform with new 2.0L engine and IVT transmission
More luxury features including the 10.25-inch wide display and Head-Up Display
New exterior design
It's clear that the Korean automaker has gone for a more youthful and innovate look with the exterior design of th Kia Soul 2020 (model year), which they have achieved by adding sculpted lines, new lighting elements, and cool new details.
New exterior design highlights include:
High-tech front headlight configuration
Slim-design daytime running lights and turn signal indicators
Larger front grille with unique two-tone treatment
Three-dimensional wraparound boomerang-shaped taillights
C-pillars designed to resemble airplane wings
Distinctive C-pillar garnish featuring the "Soul" graphic
2. Different body styles (GT-Line, X-Line, EV model)
This is a Soul model that you can truly make your own by taking advantage of the numerous customization options. Outside of the regular gas and EV models, there are some new additions to the Soul family that are more suited to different lifestyles.
Kia Soul GT-Line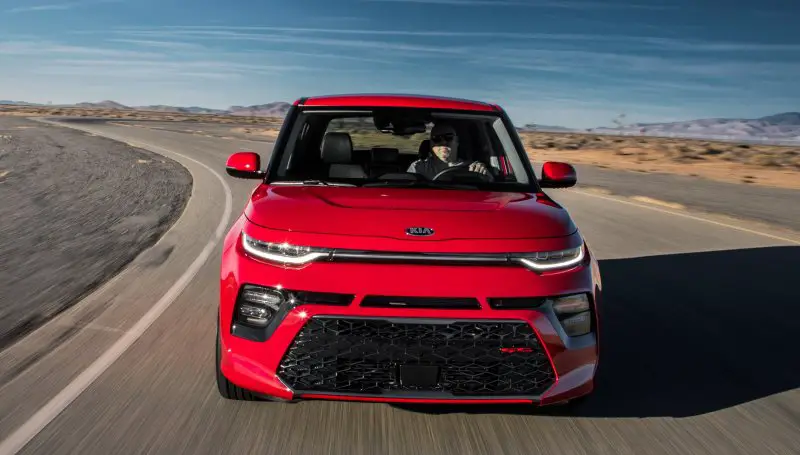 The 2020 Kia Soul GT-Line is the perfect option for those who want a little more in the performance department.
The front fascia of the turbo model is more aggressive, while red accents and GT labels abound. Integrated fog lights up front and gloss black side mirrors are also in the mix.
Nothing says sporty quite like 18-inch alloy wheels and P235/45 R18 tires, not to mention a chrome-tip center exhaust, all of which are on this sporty Soul GT-Line model.
Kia Soul X-Line
The 2020 Kia Soul X-Line is intended for those who like a little more adventure in their lives, which is why it comes with a body kit that is more rugged and in line with an SUV.
The exterior of the Soul X-Line comes with body cladding, accents inspired by off-roading, 2-tone paint, roof rails, and one-of-a-kind 18-inch alloy wheels.
Kia Soul EV
The 2020 all-electric Kia Soul EV may, at first glance, look the same as the gas-powered model, but it has been given some styling elements that set it apart.
The 2020 Soul EV is built to be more aerodynamic, which is achieved by the addition of sleeker fascias in front and back. It also comes with a driver's side charging door on the front bumper, solid front grille, unique fog lamps, LED headlights, and 5-spoke 17-inch alloy wheels.
3. Restyled interior
The commercial ads for the Soul made it clear from the start that music was very much the theme for the new boxy Kia crossover. That carries over into the 2020 model year, where the designers have cranked up the volume on the interior layout.
Shapes and textures have been used to deliver an "emotional visualization of sound" designed to create a full-on sensory experience for everyone inside the car.
The 2020 Kia Soul interior design highlights include:
Available sound mood lighting emits soft light from the center door panels and a unique 3D pattern surface on the upper door panels, with the ability to synchronize to the beat of the music playing through the Soul's audio system
Sound mood lighting features a rainbow of customizable colors
Available mobile phone wireless charging
Available dual auto climate control
Soul's signature tweeter speakers
4.New platform, 2.0L engine & IVT transmission
The addition of an all-new platform for the new Soul to ride on means a better driving experience when you get behind the wheel. The suspension set-up has also been changed to ensure improved NVH ratings, as well as improved ride and handling.
You can get the driving experience you desire by choosing from several different drivetrain combinations.
In the US, the 2020 Kia Soul comes available with 2 different gasoline engines: the base 2.0L 4-cylinder engine and range-topping 1.6L turbo engine.
For the first time ever, the IVT (Intelligent Variable Transmission) transmission is included in the Soul. The IVT is the creation of Kia's in-house engineers and is a version of the continuously variable transmission that makes driving a lot more engaging.
Engine & transmission options
2.0-liter "Nu" four-cylinder engine + 6-speed manual transmission or Intelligent Variable Transmission (147 horsepower, 132 lb-ft. of torque)
1.6-liter GDI turbocharged four-cylinder engine + 7-speed dual-clutch transmission (201 horsepower, 195 lb. ft of torque)
5. More hi-tech safety & luxury features
Safety has long been a top priority for the South Korean car brand, as is clearly evidenced by the list of hi-tech features available on the new Soul crossover.
Many of us spend more time in our cars than ever before, which is why a great infotainment system is always a welcome addition. The third generation Soul comes with a 10.25-inch touchscreen display that supports both Android Auto and Apple Car Play.
Like all newly released Kia models, the 2020 Soul model also comes with available Drive Wise features that include:
Forward Collision Avoidance (FCA) / FCA Pedestrian type
Lane Keeping Assist – LKA
Lane Changing Assist – LCA
Driver Attention Warning – DAW
Blind-spot Collision Warning – BCW
Rear Cross Collision Warning – RCW
Smart Cruise Control – SCC
High Beam Assist – HBA
2020 Kia Soul represents a vast improvement over its predecessor
Since the day it arrived to the US-market , the Soul boxy car has proven to be a winner for the South Korean automaker.
The third generation model will almost certainly continue to be a consumer-favorite, largely because it continues to evolve and gets better with each new model!
The 2020 Kia Soul now comes with a great new look, affordable price and multiple customization options that help you choose the style that best suits your lifestyle.