What's better than owning a brand new Kia Soul crossover vehicle? How about owning two of them?
That is what our latest Kia owners do, with each choosing the funky green-painted Kia Soul as the car to get them around in style.
The man of the house is a retired member of the USAF with a bachelor's degree in engineering.
His wife, whom he describes as one of the most impressive ladies he knows, works as a manager for an alarm monitoring company, and she oversees 35 employees across three states.
Both are new to Kia cars, having just purchased their Soul's in March of this year, but both are already impressed with the quality of their cars.
Kia Soul Kale Green
Also impressed are friends and family members, one of whim has even commented that the Soul crossover vehicle delivers a much quieter ride than her Lexus.
The main reason that they chose the Soul was because it was roomy in front and offered a comfortable ride.
This was especially important to the former military man who was forced into retirement due to injuries. The support and roominess offered by the Soul have been a real blessing for him.
Both agree that the Kia Soul boxy car has gone a long way towards helping them recapture their youth. They describe their new cars as a party wagon where the radio is always on and the music playing.
In short, they have chosen the perfect car to suit their specific lifestyles.
1. Tell us something about your Kia Soul ownership experience!
It has not been long that my wife and I have had Kia's. We brought the two of them home the end of March this year.
So far we are both blown away by the quality of the Kia cars. They are solid and quiet. We feel we really did well ib choosing Kia this time.
2. What do other people say about your green-painted Kia Soul models?
So far the few family and friends who have seen or been in the cars have been surprised.
They expected something like 1970's Toyota's. All lightweight and cheap, and stripped down. One even said our Kia Soul is more quiet than her Lexus!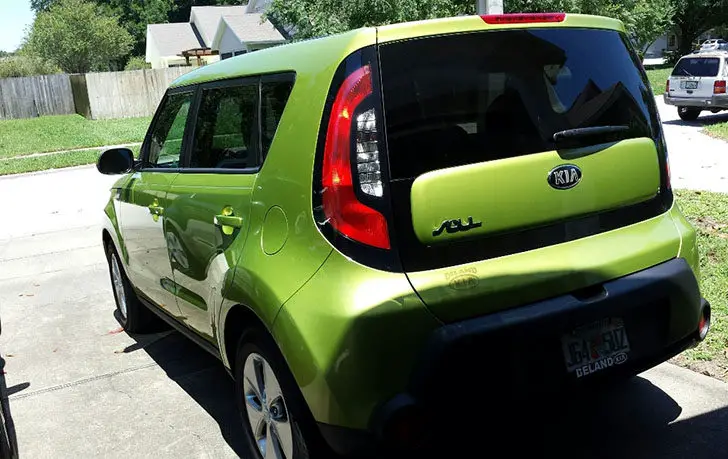 3. How long have you owned your rides?
We purchased them on the 28th of March this year. I just made the first payments.
4. Honestly, what was your intention when you bought your Kia?
We wanted to look to see if the new Kia Soul was roomy enough and sat up enough to be comfortable to older joint pain prone people. We both are.
It is in fact very roomy. It is very comfortable to sit in and has many adjustment options including up! We just needed some better support and room.
5. What do you like the most about your new Kias?
Personality! This is a crossover that thinks it is a party wagon! The radio is more than I have ever had in options.
There are more std buttons on the steering wheel than on my first calculator in engineering school!  The car is just comfortable and fun to drive also.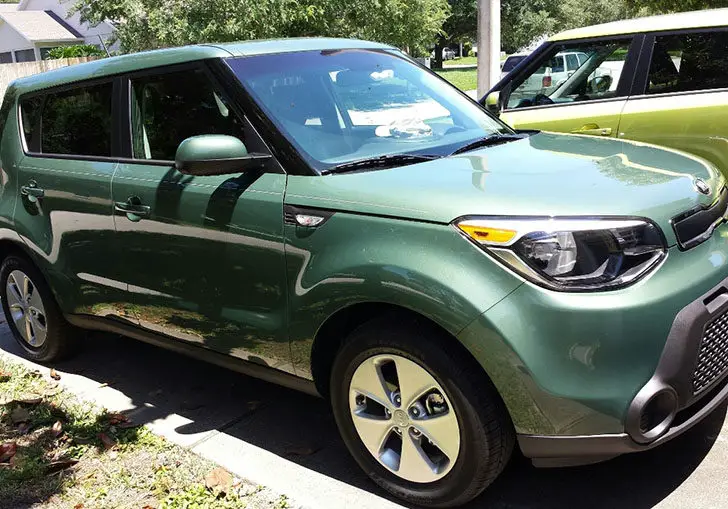 6. What is it that makes your rides look unique?
Well it isn't the first crossover but is is the first hamster salesman fun car we have driven.
Hers is Alien II and the color pops where ever it is seen. Mine is a darker green and suits my reserved slower countenance. The Soul just looks unique of all cars. people know it instantly and like it.
7. What accessories have you installed so far / do you have any future plans?
I am thinking about back up cameras for both cars. We should have got them from the start. She wants some 'Marvin the Martian' carpet floor mats. I dont have any needs right now that I can think of. Maybe a K&N air filter. Thats about as wild as I get!
Specs of both green Kia Soul car models
Engine: 1.6L GDI 4-cylinder engine
Exterior color: Alien II (hers) & Kale Green (mine)
Trim level:  Base with 6-speed automatic transmission
Model year: 2014
Tire size: 16-inch tires
Average mpg: So far she is driving more and farther so is getting near 30mpg combined.  I am driving much less and slower and am  getting around 28mpg just now.
Miles driven so far: She has around 1000 miles and I have just over 500.