Wheelchair accessible vehicles are remodeled cars, vans or SUVs that enable disabled people to travel in them while remaining seated in their wheelchair either as a driver or passenger.
Such vehicles are usually based on standard car models and include additional features such as a lift or a built-in ramp, wheelchair tie-downs and seat belts for wheelchair users to keep passengers secure and to aid entrance into the vehicle.
In Australia, there is a company called Freedom Motors that coverts regular Kia cars to wheelchair accessible vehicles.
They offer a range of eight different vehicles to wheelchair users, with two of them wearing Kia badges.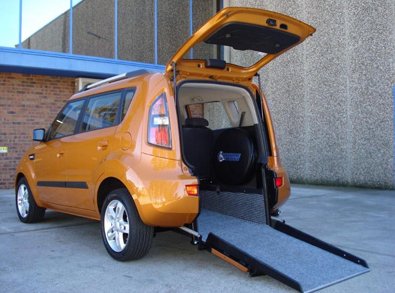 Kia Soul wheelchair accessible vehicle is Freedom Motors' latest addition to their growing vehicle line-up and although it has just been introduced to the market it already promises to be very popular with the smaller vehicle conversion buyers.
If you are looking for a small trendy vehicle modification for wheelchair access, have an obligation free look at this beauty, and don't worry, Kia Australia backs up this vehicle with a 5 year unlimited Kilometer Warranty Australia wide. (quotation from FMA website)
The Soul is available as a Family Member (2 seater) and Self Drive (transfer seat) Conversion and offers surprising levels of interior room.
According to Freedom Motors Australia, the Soul is fantastic car for those people who don't want to drive the larger wheel chair accessible vans.

For easier manoeuvring and parking, the car is equipped with reversing mirror – camera system and parking sensors.
It also features fold-down double seat to add 2 extra seats,  electric opening and closing ramp, electric wheelchair restraints, remote opening and closing tailgate and ramp system and a Wheelchair Docking System that eliminates any use of wheelchair tie-down straps resulting in locking and releasing the wheelchair in only seconds.
Kia Sedona (Grand Carnival Minivan)
The other wheelchair accessible vehicle with Kia badge in their vehicle line-up is a converted Kia Sedona minivan, known as Kia Grand Carnival in Australia.
The vehicle offers a lot more room inside the cabin compared to the Kia Soul wheelchair accessible car and is available in 2 types, the standard and the premium conversions.
The standard Grand Carnival model has some height and width restrictions and suites a wheelchair that is not wider then 600mm where the lowered tray has been designed to fit over the original rear suspension leaving a slope and a hump on the lowered floor.
The premium model has a complete flat floor thanks to the use of Freedom Motors unique rear suspension system which makes it even easier to get in and out of the vehicle.
Kia Grand Carnival converted to a wheelchair accessible vehicle is also equipped with features such as reversing sensors, reversing mirror – camera system, side steps, fold-down double seat, electric wheelchair restraints and others. [Source: Freedom Motors]
Pictures of Kia Soul wheelchair accessible vehicle