The 2010 Kia Morning goes on sale in South Korea. New model year improvements include radical styling revisions and technical updates.
Kia continues its new car onslaught in the South Korean market with the introduction of the 2010 Morning minicar. 
Known as Picanto worldwide, the 2010 Kia Morning is following the sporty two-door Forte Koup, that has been officially unveiled to the Korean public at at COEX Mall in Seoul last week.
Kia Picanto has been Kia's best selling model for the second straight year in Korea. For the 2010 model year, Kia Picanto received a batch of mid-cycle upgrades including some radical exterior and interior styling revisions along with technical upgrades such as improved engines and new transmission.
Among the most evident styling updates made to the 2010 Morning 5-door hatchback is a more aggressive front fascia that finally receives a Schreyer-designed chrome signature grille.
Along with updated "tiger grille" the facelifted Picanto also gets a redesigned front bumper with larger air intakes, new fog lights design and black high-gloss garnish. At rear, mid-cycle changes include black-bezel tail-lamps and sportier rear bumper design.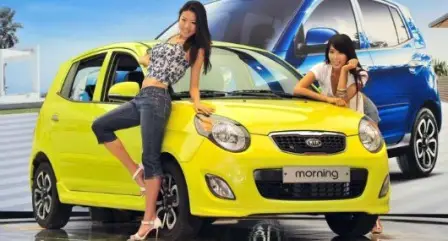 The list of styling updates does not end here and also includes a set of redesigned, five-spoke alloy wheels, similar to those found on the Soul crossover.
Attractively stylized alloys are wrapped into 15-inch rubber and provide Picanto a sportier exterior appearance. The facelifted Picanto also receives chrome fuel-door, body-color side moldings and side mirrors with turn signals.
Inside, the facelifted Picanto gets a sportier, four-spoke steering wheel, updated door trim, updated upholstery materials and redesigned gauges, while interior also benefits from new options such as folding type remote key and rear view camera, connected to small LCD display, placed inside the rear-view mirror.
Every Picanto has also been equipped with the so-called Eco Assist system that guides the driver to drive in the most economical way.
2010 Kia Morning facelift pics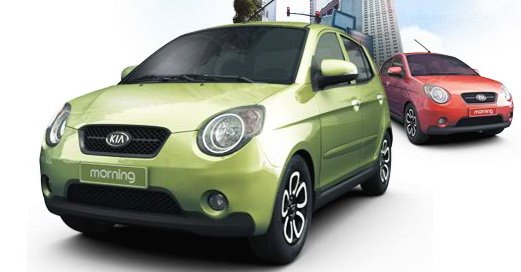 In addition to all the afore-mentioned cosmetic updates, the new Morning also benefits from upgrades under its hood. The new model is available with an updated 1.0L four-cyl. engine that packs 72 horsepower. 
While this engine churns out 8 hp more than pre-updated unit, it still manages to achieve 5% better fuel consumption ratings (20km/L). In Korean market, Picanto is also available with a 67-horsepower LPI engine that runs on liquefied petroleum gas.
The 2010 Kia Morning is already available at Kia dealers across South Korea with prices ranging from 7.06 million Won ($5.590) to 9.77 million Won ($7.700) for gasoline engine powered model, while liquefied petroleum powered Picanto starts at 8.85 million Won ($7.030) and tops at 10.3 million Won ($8.184).
The updated Picanto will celebrate its official European debut at the upcoming 2009 Frankfurt Auto Show in September, while its sales is expected to take off shortly after its premiere.