It seems like we have been waiting for ages to see the 2010 Kia Sorento breaking the cover.
After seeing a countless number of spy photos and prototypes in various testing stages, the wait is finally over and we can exclusively show you the new face of the next generation 2016 Kia Sorento crossover vehicle!
Note (update): the Sorento model pictured here is the previous generation model. Kia has a fully redesigned 2016 Sorento on sale already, so check it out (red link above)!
2010 Kia Sorento information and details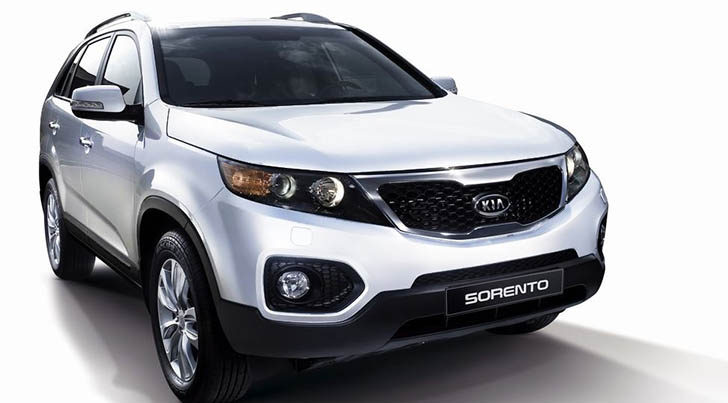 Codenamed XM, the 2010 Sorento SUV is scheduled to make it's official debut at the Seoul Auto Show in April and that will be the place where Kia Motors will reveal more precise details on it's powertrain options, equipment and accessories.
Not willing to wait additional three weeks to get to know more about the new Sorento, I gathered some additional information from various Kia sources worldwide.
Redesigned Sorento will become the first Hyundai-Kia vehicle in the family to come equipped with the all-new environmentally-friendly R-diesel engine.
The 2.2L diesel engine boasts best-in-class 200 horsepower and best fuel economy performance of 14.1km/l making it the most fuel-efficient crossover in the Korean market.
The new state-of-the-art diesel engine also satisfies EURO5 emission standards.
The engine range will also include a four-cylinder 2.4L and a 3.8L V6. Both are destined for the International markets, including US and Europe. On it's domestic market, new Sorento SUV will also be available with a 2.7L LPI engine.
Standard powertrain package also includes a 6-speed automatic transmission developed with proprietary technology.
Size-wise, the 2010 Kia Sorento has grown in size and now measures 4.685 mm (+95mm) in length, 1.885 in width (+35mm) and 1.710 in height (-15mm). It's wheelbase has been shortened by 5mm to 2.700mm.
Kia Sorento news update
It's been long 10 years since Kia officially launched the 2010 Sorento onto the market. Today, however, there's a much improved new generation Kia Sorento available for sale. You can find many articles related to the new model here at theKEEA.com. One of those is related to the new Kia Sorento colors. You can read it here: