The hip hop hamster would love the subject of our next interview, as this Dallas native was one of the first to get his hands on the black-painted 2015 Kia Soul crossover vehicle.
He went with the 2015 Soul Base model with the 1.6L GDI 4-cylinder engine, but we get the feeling that there might just be a few modifications in the future of this ride.
The owner already informed us that blue lighting is on the list of things to do, but let's take a quick look at why this "IT Tech" chose to purchase the new Kia Soul.
He has had a number of different cars in the pass – Ford Probe, Honda Accord, Acura Legend, and more – but he has had his eye on the funky Soul car ever since it was released.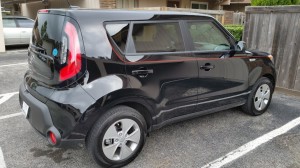 The reason he waited so long to finally get one was because he wanted this to be his very first NEW car.
There are only 250 miles on the clock so far, but many more to come.
One of the biggest selling points of the Kia Soul for this guy was the fuel efficiency, but the styling was also a big factor, as was the entertainment system found inside.
He has already received a number of compliments from friends and passers-by, many of whom comment on the style of the car and the cool black exterior color.
While this may be the first owner of a 2015 Kia Soul that we have spoken to, it likely won't be the last!
Read on to learn more about his ownership experience and future plans for the car.
Kia Soul 2015 Specs
Engine: 1.6L GDI + automatic transmission
Color: Black
Trim: BASE
Model year: 2015
tire size: 16″
average mpg: 23-25 so far
miles driven so far: 250
Kia Owner Interview
1. Tell us something about your Kia Soul ownership experience so far? Love it! Its Zippy handles great and the MPG is GREAT!
2. What do other people say about your black-painted Soul? Dude how does it drive…
3. How long have you owned your 2015 Soul BASE? Week and a half
4. Honestly, what was your intention when you bought your Kia? Wanted my first new car and I've allways wanted a Soul since they came out .
5. What do you like the most about your ride? The entertainment system is second to none.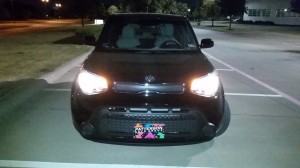 6. What is it that makes your ride look unique? Right now the fact its missing the pin stripes they put on the 2015s .. Im thinking about not letting them put them on it just to be different .
7. What Kia accessories have you installed so far / do you have any future plans? Want to install some blue lighting for when im out playing ingress.