The fellows from Popular Mechanics have picked the new Kia Soul, Scion xB and Nissan Cube and put them side by side to find out which one's the king of the Y-Gen car market.
With a very limited competition over the past few years, Scion xB has been the obvious choice for those consumers that wished to have a different looking vehicle parked in their front yards.
But lately, Scion has gotten some company from Kia and Nissan. Both automakers have just recently introduced their own xB opponents, both targeting the same consumers as Scion had for years.
Unfortunately, the Soul has not taken victory this time, but has ended in the second spot ahead of Cube.
The Soul has won the hearts and minds of Motor Trend's jury and has been praised for it's unique and good looking exterior design, while on the other hand, it has been criticized for not being as refined as the xB.
According to the Motor Trend, with some powertrain refinement improvements, the Soul could easily push the xB to the second spot and win their comparo test.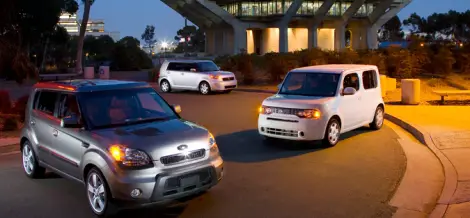 Let's see the verdict:
First place: SCION XB
The benchmark maintains its position based on solid execution, performance, and value. The formula needs fine-tuning, however, as competitors loom large in the mirror.

Second place: KIA SOUL SPORT
Solid A for effort. Stunning design makes it the unanimous undergraduate pick. More powertrain refinement and a couple of tweaks will easily put this at the head of the class.

Third place: NISSAN CUBE 1.8S
Awkward proportions and asymmetric styling prove big barriers that mask the Cube's many strengths-including a lively drive, impressive interior room, and attractive details.
To read the rest of the Soul vs. Cube vs. xB comparison test, head over to Motor Trend's website or click here.