The October 2009 Kia Soul of the month contest was won by a forum member RelenaRelena and we had a brief talk about his nice looking ride yesterday.
Living in Holland, RelenaRelena became the very first non-North American Soul owner after five Canadian and one US Soul owners that won our monthly contest.
RelenaRelena drives a beautiful Soul crossover, coated in silver paint. Under the bonnet, her Kia Soul features a 1.6L engine with 128 horsepower. The car is equipped with 16-inch tires and five-spoke alloy wheels.
Although RelenaRelena has owned his ride only for a very short period of time, he already equipped his car with numerous Soul chrome accessories.
Sidebars, pushbars, chrome door handles, chrome head-lights, chrome rear wiper and other accessories provide his ride with classy and extravagant look.
Congraulations for your win RelenaRelena!
1. How long have you owned your Soul and what are your experiences so far?
We have owned the Soul for almost 12 days. We find the Soul a perfect car for us. Pleased that we have implemented with 16 inch wheels. Driving behavior is better for us than the 18 inch model in which we have done our test drive and we absolutely love everything about it.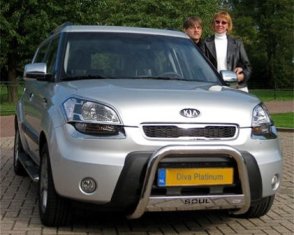 2. If you had to pick one thing what was it that really sold you on the Kia Soul?
Not so sporty shape but rather modern retro exterior style. That makes you feel immediately that this car has something you do not see by other cars. We have not opted for black with this car because we wanted to retain the shape accents. In black you see this less than in bright silver.
3. Did you name your Soul?
Yes we call our Kia Soul "Diva Platinum" that was the first thing we thought after we had made some modifications. On the Internet we had seen a "Diva" Soul with gold accents.
4. How and when did you find out about the Kia Soul?
We actually went to large turn our Mitsubishi Colt almost 3 years old. Had already experienced the new mitsubishi did not meet our requirements. Namely my wife with her beautiful legs should fit into.
With the new Soul this is no longer the case. Stupid because the old model was special for users as my wife long 192 centimeters perfectly. To make a long story short. We come to this dealership and see inside the  Kia Soul in the color Vanilla Shake. I look at my wife my wife looks at me. We walk once around the car.
Tell her try it out with your legs. For her no problem I'm beside her. We look back on each other almost simultaneously we both say a test drive. Have made this test drive. And our new car ordered.
5. Can you tell us some interesting comments that you have heard about your ride from friends, family and other people?
People say the Soul looks very luxury. It must be a very expensive implementation that they have not yet seen. And find that the looks are better than the one at the dealers. People say the vehicle is roomy inside, the accents look very good and the Soul feels solid.
A few people we heve meet find the car so beautiful that they have put it on their wish list. We also feel that age does not matter, young or old, this Kia Soul knows no age limit.
6. What are your plans as far as modifications? Are you interested in that at all?
Already done a lot of modifications to our Soul in the last couple of days and more's to come. I had everything prepared while awaiting the new car. We wanted to do it with taste. Only improve the original design so it will look even better.
That better up Kia have not done only because of cost consideration. But also to give us the chance to make it personal. And that is what we do,………we make it personal the way we want to have it.
7. Is this your first Kia product? What vehicles have you owned before your Soul?
Yes this is our first Kia previously we drove a Mitsubishi Colt and before that a Mitsubishi Charisma.
8. Did you change your attitude toward Kia products since you've bought the Soul?
Yes, because I see that Kia has adapted well to the demand from European customers. The company is building well-designed cars with good safety capabilities.This brand will certainly be among the winners in the coming years.
About the Owner:
Name: René and Elena
Age: 50 and 47
Location: Holland
About Kia Soul:
Engine: 1.6 L 128 HP
Tranmission: Auto
Colour: Bright silver
Model: Kia Soul X-tra
Tires: 16 inch light alloy rims in color of the car.
Average consumption 14,9 km per liter
Price: ± $30.000
Kia Soul modifications: Sidebars, Pushbar, Chrome Door Handels, Chrome headlights, Chrome Taillights, Chrome Rear Wiper, Chrome Trunk Catch Molding, Chrome mirror Covers, Chrome Interior kit, Chrome Around Manual Transmission, Led Light For Ipod, Rear Parking sensors, Ipod Cable, and more to come.
Find more owners interviews at www.thekeea.com