The boxy Soul had been called many different things, but its latest title is "popemobile."
Sales of the iconic compact have soared after Pope Francis chose it as his vehicle to get around in during a recent Korean visit.
The car received a ton of free advertising, as the visit of the Pope was broadcast all over South Korea, as well as the globe.
Soul Sales Jump 62% In Korea
Average daily sales in the nine days following the Papal visit have jumped 62.5% to 32.5 units per day.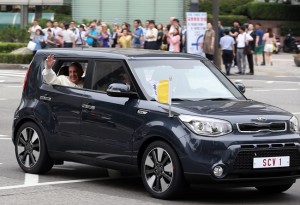 Compare that number to the previous month, where the average daily sales sat at 20 units per day.
The 9-day period in question actually began with the 4-days that the Pope was in the country, starting on August 14th.
The highest sales number landed on the 18th of the month, when 52 Kia Soul units were ordered on the final day of the visit.
A Kia official said the Soul really wasn't a major contributor to the sales of the company as a whole, with a few hundred monthly sales. He did admit that the recent spike in sales had a lot to do with the visit of the Pope.
Expectations are now that the August sales of the Kia Soul will surpass the 2014 monthly average of 391.
Automotive insiders are a little surprised by this development, as August is traditionally a pretty slow month when it comes to sales. This is due to a halt in production mid-month due to a major holiday.
Despite this nice little boost in sales, Kia are remaining unwilling to market the Soul with relation to the Pope, as they want to avoiding adding a religious element to their marketing efforts.
All of that said, Kia is hoping that global sales of the Soul will benefit from the visit as well. Sales to date (January to July) sat at 139,048 units.
The Soul has performed well overseas since it was first released in 2008, with combined sales sitting at 881,549 units. A total of 91.7% of all the Souls sold to date were built overseas.