Prototype of a self driving Kia Soul EV crossover.
By the time this decade comes to an end, Kia hopes to have semi-autonomous driving technology in place.
Kia have been spending a lot of time developing hybrid powertrains, but they have also been focusing on semi-autonomous driving, which they hope to have in their cars within the next 4 years.
In order to reach that goal, Kia will invest $2 billion between now and 2018 to create a technology that they call the Advanced Driver Assistance System (ADAS).
They are not just throwing money at the technology, though, as they are also investing in engineers who can help them develop the next generation in smart vehicles.
Picture of a Kia Soul EV prototype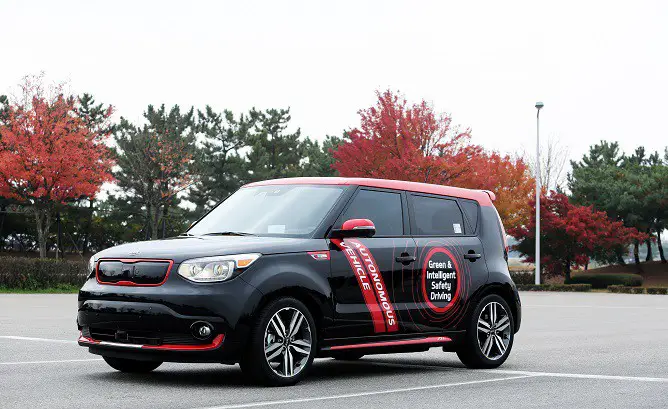 Kia working on "recognition, judgment, control" systems
Recognition, Judgment, and Control are the first systems currently in development.
The Recognition system will use sensors to detect cars and hazards, as well as being on the lookout for potentially poor driving conditions.
The Judgment system will employ high-tech computing systems to decipher data obtained by the ADAS sensors, which will them allow the car to make smart decisions.
The Control system will use active mechanical and electronic systems to allow the car to apply the decisions delivered to it by the autonomous setup.
While all of that may sound incredibly futuristic, it is in fact just scratching the surface of what is to come.
Engineers are also actively working on systems such as Highway Driving Assist (HDA) that will combine Lane Guidance System (LGS) and Advanced Smart Cruise Control (ASCC).
We can also expect to see a Traffic Jam Assist (TJA) function, an upgraded Smart Parking Assist System (SPAS), and a new Remote Advanced Parking Assist System (RAPAS).
There is still a lot of work to be done, and it may well be 2030 before we see a fully autonomous Kia vehicle take to the streets.
Stay tuned for more Kia news! www.thekeea.com