This is a guest post, written by our daily reader JoshyLofty. He came across the facelifted version of Kia Sportage that was parked at the local mall. He grabbed his mobile phone with integrated camera and took some images for us.
I took some great pics today of a brand new Kia Sportage LX AWD model this morning @ a local mall.
I called the dealership I used to work at (Southwest Kia/Hyundai) and asked a friend of mine I worked with if they had any of the new bodystyles and she reported they've only seen pictures but not the actual car.
What else was weird was there was a lot of plastic on the interior you can see a little in the interior pic. I don't know for sure if this was a tester or what because the car had no cladding or covers outside.

The rear end definitely had the new rear, a slightly changed & sculpted bumper and taillights were the imediate giveaways. The tails had a while backup and turn signal with the turn signal sporting an orange bulb. The front looked VERY much like the Rondo in person and had a more rounded front reminiscent of the Spied Sorentos and Rondos alike.
Another interesting tidbit was the sunroof. It had a LARGE sunroof rather than the older small ones. It wasn't a "skylight" sunroof but more of something found in the latest model BMW X5 and Mitsubishi Montero Limiteds.
The windows, however, were too dark to get a good picture. The dash looked the same with minor changes (I used to own a Sportage so i noticed this right away) to shape and material looked of higher quality. This car did not have leather.
The interior was slightly changed and I noticed a first in the Sportage. "Infinity" was written on the stereo along with "MP3, MDA, & 6DISC". I also counted 9 speakers with one being a subwoofer in the rear.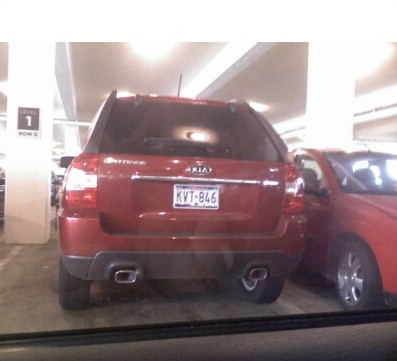 Related link: Find more information and some great official images of the 2009 Kia Sportage here.