Find out where to look for the best rubber floor mats for Kia Telluride!
A new vehicle is a big investment, so it's important that you do as much as possible to protect it. Keeping the interior clean is just one way to do that, with quality all weather floor mats considered an absolute must have accessory!
If you are shopping for the 2023 Kia Telluride floor mats, you are going to find many different options, but not all of them are a great choice.
The problem here is that many floor mats are considered a one size fits all type of option, which is not particularly great when you are dealing with a vehicle as large as the Telluride SUV. This is an instance where you should really be looking at quality floor mats that have been specifically made for this large Kia SUV.
The last thing you need are mats that move around when you drive or that get wedged up under the pedals, as that can be more than a little dangerous. With genuine Kia rubber floor mats for the Telluride SUV, you will never have such issues.
There are several things to take into account before you purchase a set of Kia Telluride all-weather floor mats, so let's break it all down for you.
2023 Kia Telluride floor mats pricing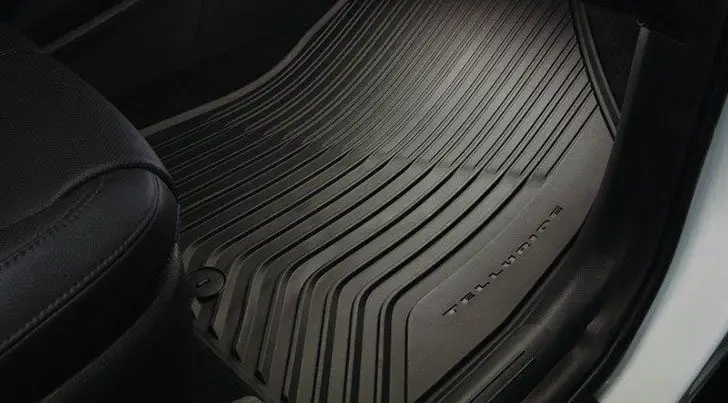 Why genuine Kia floor mats are the best choice?
We have spoken to a number of Telluride owners in U.S. to get their feedback on the rubber floor mats that they have already purchased. The overwhelming consensus from them is that genuine Kia Telluride floor mats deliver the best protection for your vehicle.
There are 3 main reasons why this is the case:
OEM factory design mats are the perfect fit to the interior of the Telluride.
The mats are made as a 5-piece set, which means that all 3 rows get the coverage and protection they need.
The addition of the Telluride logo to the front mats adds a stylish touch to what is already a classy vehicle. It's not all about functionality.
5 benefits of the Telluride rubber floor mats
Durable: All-weather mats are definitely the way to go, as they are rugged and durable and can take a real beating. While the material is sturdy, it's also flexible enough to make it easy to clean while still being able to stand up to the steady contact of outdoor shoes.
Moisture and dirt get trapped: The surface of the rubber floor mats is waterproof, meaning that spills are caught, and dirt is trapped.
Easy to clean: A quick spray down with water and soap and you have mats that look as good as new. Best of all, there is no after smell once the all-weather mats dry out after cleaning.
Interior protection: Nothing protects the carpets on the floor as well as all-weather mats can.
Visually appealing: With the Telluride logo on the mats, you get a practical accessory that also looks great. Just what you need for a vehicle as stylish as the Kia Telluride.
As you can see, genuine Kia floor mats are the best way to protect the interior of your Telluride SUV. If you need any more proof, just take a look at the photos of how the mats look when installed.