We have just gotten a hint about the upcoming 2018 Kia models and think sharing the news with you guys would be a cool gesture.
It's true that this is almost one year away from now, but you can expect the first Kia vehicles, labeled as 2018 models, being put on sale already this year.
There are a wide number of new or refreshed vehicles projected to hit the U.S. and European markets.
The goal of each of those new Kia models will be to attract even larger number of new car shoppers.
Now, let's have a look at what to expect from the 2018 Kia model line up.
2018 Kia models coming soon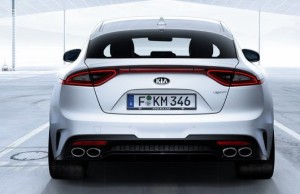 Soul: The 2018 Kia Soul is not expected to incorporate many tweaks and changes. The funky hamster ride has received a mid-cycle facelift as well as a new turbo engine earlier this year.
Soul EV: The 2018 Soul EV is rumored to receive minor cosmetic changes and slightly larger battery pack which would enable owners to drive up to 124 miles on a single charge.
Sorento SUV: Our friends from Korea have spied a 2018 Kia Sorento facelift a couple of weeks ago. Early spy shots suggest that the 2018 Kia midsize SUV will incorporate some styling tweaks up front and rear.
Stinger: Kia has officially unveiled the Stinger sports sedan at the Detroit Motor Show. Set to go on sale in the second half of the year, the 2018 Stinger will come with optional AWD.
Rio: All-new for the upcoming model year will be the 2018 Kia Rio 5-door. The popular sub-compact hatchback is expected to go on sale in US during the first half of 2017.
K900: According to latest news and rumors, the 2018 K900 will receive a major makeover. We have no official details about the 2018 Kia luxury sedan at this point. You can however, check the early spy shots pf the K900 redesign here at theKEEA.com.
Sedona: At this point, we do not have any information about the 2018 Sedona minivan release date. It may receive a subtle facelift to keep it fresh on the market.
Other Kia vehicles coming in 2018
Forte: Kia will launch a brand-new Forte model at the beginning of 2018. The compact sedan will receive a major styling makeover and will host a plethora of mechanical enhancements.
It is not known at this point what will happen with the 2018 Kia Forte Koup. It may be axed from the Kia US range or replaced by another model.
That's what we know about the 2018 Kia vehicles and future models in US at this point. We will keep you updated, so stay tuned!