The newly-updated 2014 Kia Sportage has been named the top in its segment in a J.D. Power survey on owner satisfaction, with the results coming from the usually hard to please German consumers.
What's more, Kia also rose 5 places in the overall standings for automakers, with more people beginning to reports positive ownership experiences.
This has to be good news when you consider that Europeans, and Germans in particular, tend to give more praise to vehicles from their own regions.
The Compact SUV segment is one that is hotly contested, making the victory for the Sportage in the JD Power 2014 Germany Vehicle Ownership Satisfaction Study all the sweeter.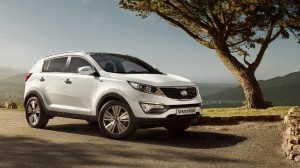 Kia was able to beat out cars and brands that are considered to be more prestigious.
The report is used to rate the overall customer satisfaction of cars available in the German market.
There were a number of other Kia models, including the Rio, also on the list.
The overall solid performance for Kia saw them crack the top 10 brands for the first time ever.
All told, more than 18,000 German drivers took part in the study in an attempt to get a feel for their overall satisfaction with the cars they drive.
Included in the things to consider are price, design, running costs, and more.
The Sportage was able to achieve a driver satisfaction score of 83.6%, which was enough to make it the top vehicle in the category, as well as placing it 6th overall.
The 5-door Kia Cee'd managed second place in the Compact Car segment with a customer satisfaction score of 81.2%.
The Rio placed third in the Small Car category with 81.3%, while the Venga managed 4th spot in the Small MPV segment with 77.4% quality rating.